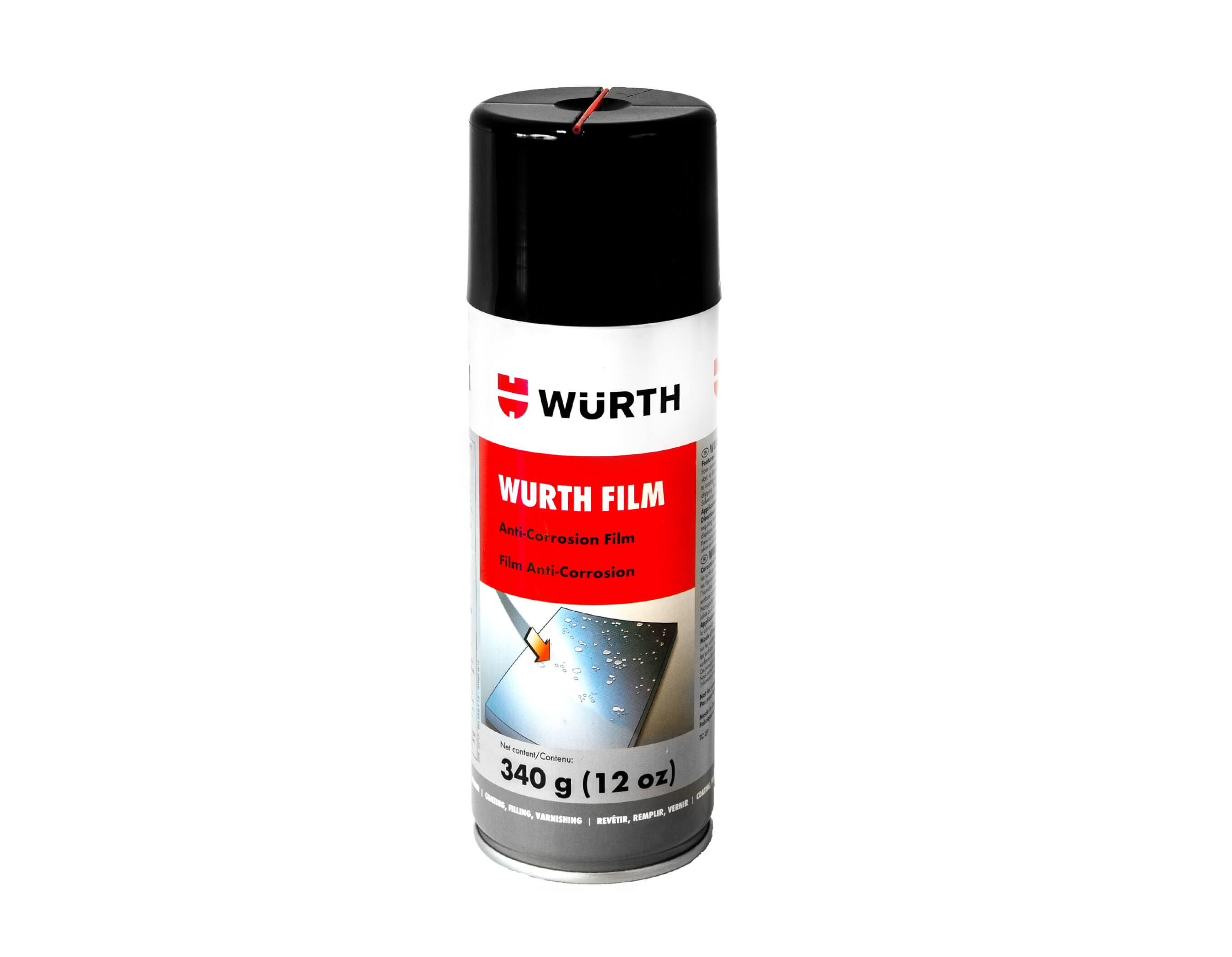 893.3300
- UNSPSC
15121900
Würth Film is a non-conductive longterm penetrant lubricant that protects against rust and corrosion
Technical Information
| | |
| --- | --- |
| Contents | 340 g |
| Temperature Range | -10 °C to +60 °C (+14 °F to +140 °F) |
Benefits & Advantage
Ideal product to use for the protection of all metal surfaces
The penetrating and coating action ensures moisture is displaced and further moisture intrusion is prevented
Will not dry up and flake off
The aerosol format provides ease of application, especially in hard-to-reach areas
Provides lubrication to sliding surfaces, to prevent binding and squeaking
Penetrates through rust, stopping all metal deterioration on contact
Solvent free, non-toxic, non-conductive, silicone free and environmentally friendlier
Temperature range: -10 °C to +60 °C (+14 °F to +140 °F)
Applications
Automotive and Trucking: battery terminals, brake cables, door hinges, hood & trunk mechanisms, all nuts, bolts & studs, throttle cables, tools, wheel lugs, trailer attachments
Agriculture: applicators and transfer pumps handling liquid fertilizers, balers, blades/cutters, combines, cultivators, tractors, winches, fertilizer spreaders, irrigation fittings, pruning shears & saws, control cables
Boating: battery terminals, boat trailers, outboard engines against salt spray, electronic equipment, fishing reels, pulleys
Manufacturing / Industrial: chain falls, conveyor belt rollers, cranes,exposed gears & machined surfaces, mould release agent, snow ploughs
Notices
This information is only a recommendation based on our experience. Preliminary testing required.
Review(s)
2020-10-13
To protect some metal parts in the car against the rust. I read something about at the Wurth recomendations Good quality
2020-09-09
works as mentionned
2020-09-05
Love it..best lubricant available !
2020-01-22
Excellent product
2020-01-22
really good stuff
2019-12-19
Shipping is unfit. Product arrived 50% damaged.
2019-04-09
TRÈS BON PRODUIT NOUS UTILISONS POUR ANTIROUILLE ET DIELECTRIQUE
2019-03-25
TENUE EXCEPTIONNEL
2019-02-21
SALISSANT MAIS TRÈS PROTECTEUR
---