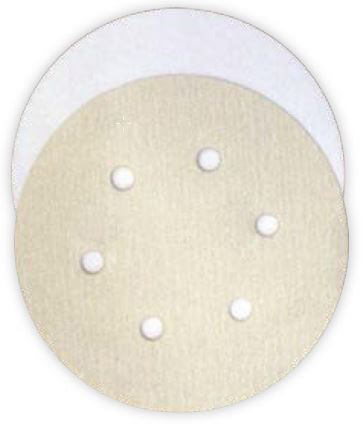 6'' 6H 800G A/O VLCR SANDING DSC RAZER GOLD 100/PK
564.6..6800
- UNSPSC
23131500
Features
40 to 600 grit papers are made with C weight Aluminum Oxide paper.
800 to 3000 grits are made of a lightweight Silicon Carbide grain and waterproof paper.
Superior resin over resin adhesion system.
Velour type discs are made with the industry's heaviest and strongest velour backing.
This product is specifically flexed during production.
Designed with two coats of stearate anti-loading agent.
Made in Canada
Benefits & Advantage
Durable and long lasting discs.
800 to 3000 grits are versatile for either wet or dry sanding.
Virtually no cracking or peeling, resulting in a smoother finish on your work piece.
Heavy velour gives you a strong and long-lasting disc, adding cushion and durability.
Flexing of the discs aids when sanding over contours and profiles, resulting in a smoother finish.
Double coat stearate dramatically decreases regular loading and allows the disc to outlast the competition use after use.
Stays flat and never has 'grain on glue' issues. No wasted discs and always clean and ready to use.
Strong glue ensures a long-lasting bond between the backing pad and the disc.
Release agent allows the disc to be neatly pulled off the backing pad, making the disc reusable and the pad free from residue or glue.
Review(s)
Product not yet rated.
---