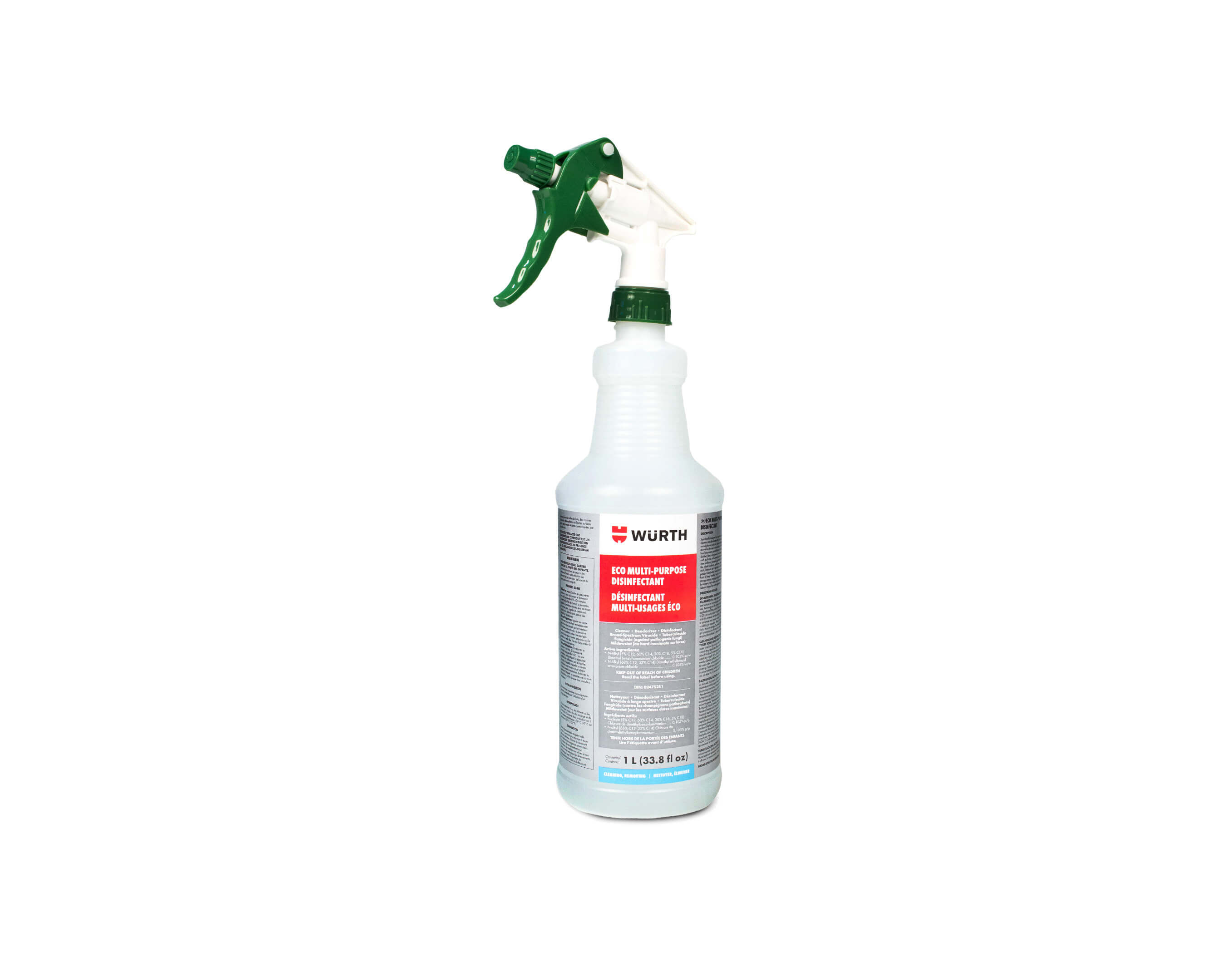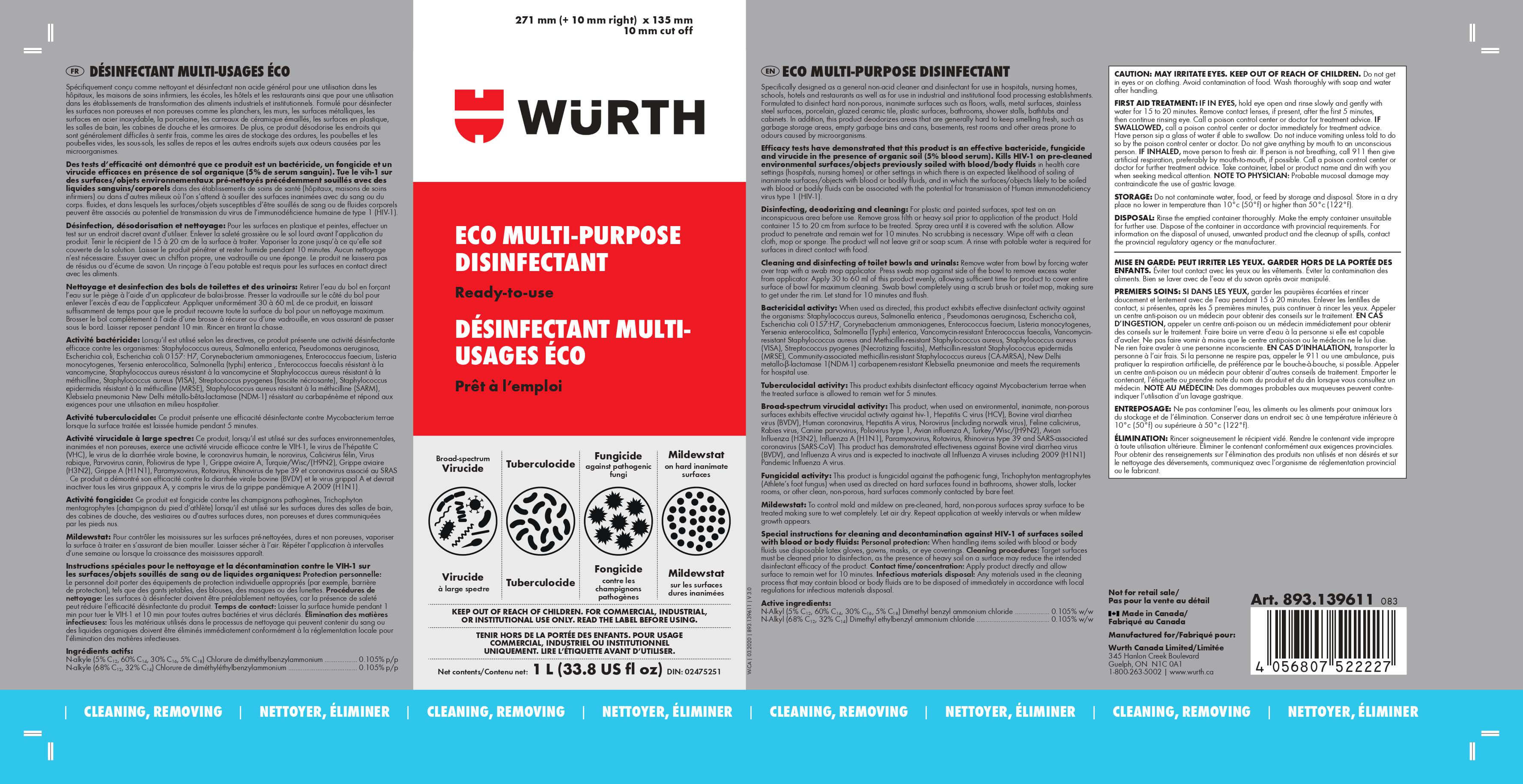 ECO MULTI-PURPOSE DISINFECTANT SPRAY 1L RTU
893.139611
- UNSPSC
47130000
Environmentally safe cleaner, deodorizer and disinfectant that stops the spread of contamination, contagious germs and micro-organisms. Meets Health Canada requirements for emerging viral pathogens. This means that it is an authorized disinfectant to use against the coronavirus that causes COVID-19.
IN-STORE
12 pieces in stock at Vaughan, ON as of 4:41 AM. Directions
Call us at (289) 474-5447 to place an order and to learn about our in-store services.

In-store pickup -

FREE

Curbside pickup -

FREE

Same-day local delivery
Technical Information
| | |
| --- | --- |
| Contents | 1 L |
| Dilution | Ready-to-use |
| | |
| --- | --- |
| Standards Met | DIN 02475251 |
| EAN | 4056807522227 |
Features
Effectively disinfects against most bacteria and viruses including: Salmonella, E. coli, Influenza and H1N1, human coronavirus (COVID-19) among other viruses at 10 minutes contact time
DIN number 02475251
Kills 99.9% of germs
Sanitizes all inanimate surfaces
Won't streak or leave behind sticky residues
Can be used to clean any surface that will not be damaged by water
This formula is listed on Health Canada's list of hard-surface disinfectants that are likely to be effective for use against coronavirus (COVID-19) https://www.canada.ca/en/health-canada/services/drugs-health-products/disinfectants/covid-19.html
Pet friendly
Applications
Industrial, Institutional and Food Plants
Health Care Facilities and Dental offices
Instructions
Ready to use bottle 1L (893.139611): Due to the world shortage, we will be shipping 1 trigger for every 2 bottles purchased.
Refill (893.139612,893.139613): Never decant disinfectants into an unlabeled container. All containers used to transport decanted disinfectants must be properly labeled.
Review(s)
2020-05-17
I use it on surfaces, that do not come into contact with food, at my restaurant.
2020-05-11
très bon produits
2020-05-09
Excellente qualité de la gâchette. Bon produit.
2020-05-05
Very good product, cleans wee and has a pleasant fragrance. The sales rep in Calgary was very knowledgeable and helpful,
2020-05-05
Easy & practical.
2020-05-04
Arrived quickly and works well.
2020-05-04
This seems like a terrific product and it has been put to good use on a variety of hard surfaces. I would recommend this strongly to health care professionals to maintain a high level of protection in their work environments.
2020-04-28
decontamination spray. excellent product
2020-03-25
Was used to clean down forklift trucks
Questions & Answers
Q
: Is this product scented? We need unscented for our workplace.
October 06, 2020
A
: This product has no added fragrance and when used in the spray format will have no scents. The only time it will have the characteristic scent is when used in a fogging machine. Therefore using fogging machines to disinfect enclosed areas that will be used for human use needs to be carried out at least 15-20 mins prior to the area being used by people.
Q
: Is this product pet friendly?
October 06, 2020
A
: This product is safe to be used in facilities such as animal hospitals, kennels, veterinarians offices or use household surfaces exposed to animals, according to Health Canada approvals.
Q
: Would like to purchase something for disinfecting church pews
November 16, 2020
A
: Yes, this item will work on any hard surface. But you would need to check if the product will be compatible with any coatings that may be on the surface that is being cleaned and doing a small spot test.
---