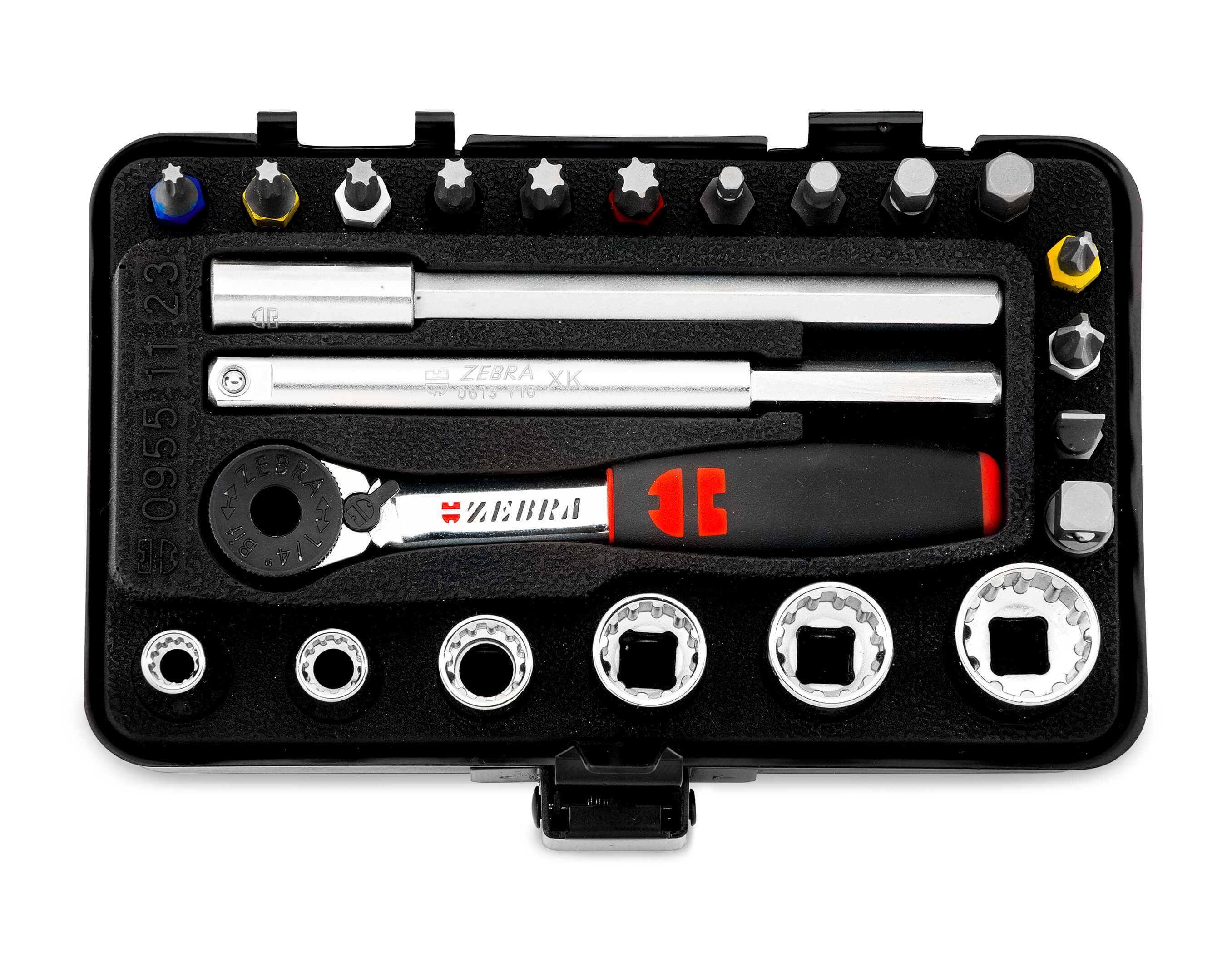 1/4 inch multi-socket wrench assortment mini 23PCS
965.1123
- UNSPSC
27111703
Compact special tool with bit ratchet, multi-socket wrench and adapter. The multi profile is suitable for the five most common screw head drives (hexagon metric, square metric, bi-hex metric, hexagon inch, external TX).
Contents
Bit ratchet
100 mm extension
100 mm bit holder
25 mm connector
1 each of multi-socket wrench sizes 5, 6, 8, 10, 11, 13 mm
1 bit each of PH 1, PH 2
1 slotted bit, 0.8 x 5.5 mm
1 bit each for hexagon socket sizes 3, 4, 5, 6 mm
1 bit each of TX 10, 15, 20, 25, 27, 30
Review(s)
2019-06-19
Super pratique
2019-06-14
Great small multipurpose product at a decent price.
2018-11-19
I use this with my hands. I recommend this to anyone who works with nuts and bolts in small spaces I think the quality is 5 star as I indicated.
2018-09-11
The quality of this set is excellent. From the ratchet, extensions and even the case, everything feels great in my hand. I'm not sure what the intended purpose was when assembling this kit's components, but I purchased it to use with my European motorcycle (a KTM); very appropriate selection of bits/sockets for that application. Sockets seem surprisingly lightweight - made me wonder if they were intended only for light-duty work. However, I can't yet judge how they will hold up. The finish seems excellent. I can't find any faults. Might just be because they are 12-point sockets with thin walls - which will make them more useful in certain applications. I can't find any fault with the screwdriver bits. Color coding is handy. They fit in the ratchet and extension very tightly - but aren't difficult to remove. The ratchet itself has a good-feeling rubber handle. All of the bits are held firmly - but easy enough to remove with a solid push from my finger. Well thought-out design. Back drag is tolerable. Not especially light, but not annoying heavy either. I was surprised how loud each "click" is when you move the ratchet mechanism. Noticeably so for such a tiny ratchet. Maybe the result of especially precise and sharp gears (or a stiff engagement spring)? One could only hope. My one gripe is that the kit is quite heavy for the size. On the one hand, the weight no doubt reflects the quality components of the set. On the other, the weight will probably keep me from carrying the kit in my pack when I ride. I think a substantial part of the overall weight is the rubber liner that holds the tools. I wonder if a more lightweight material could have been selected without compromising durability. I'm not complaining too loudly though - I like this set quite a bit!
---