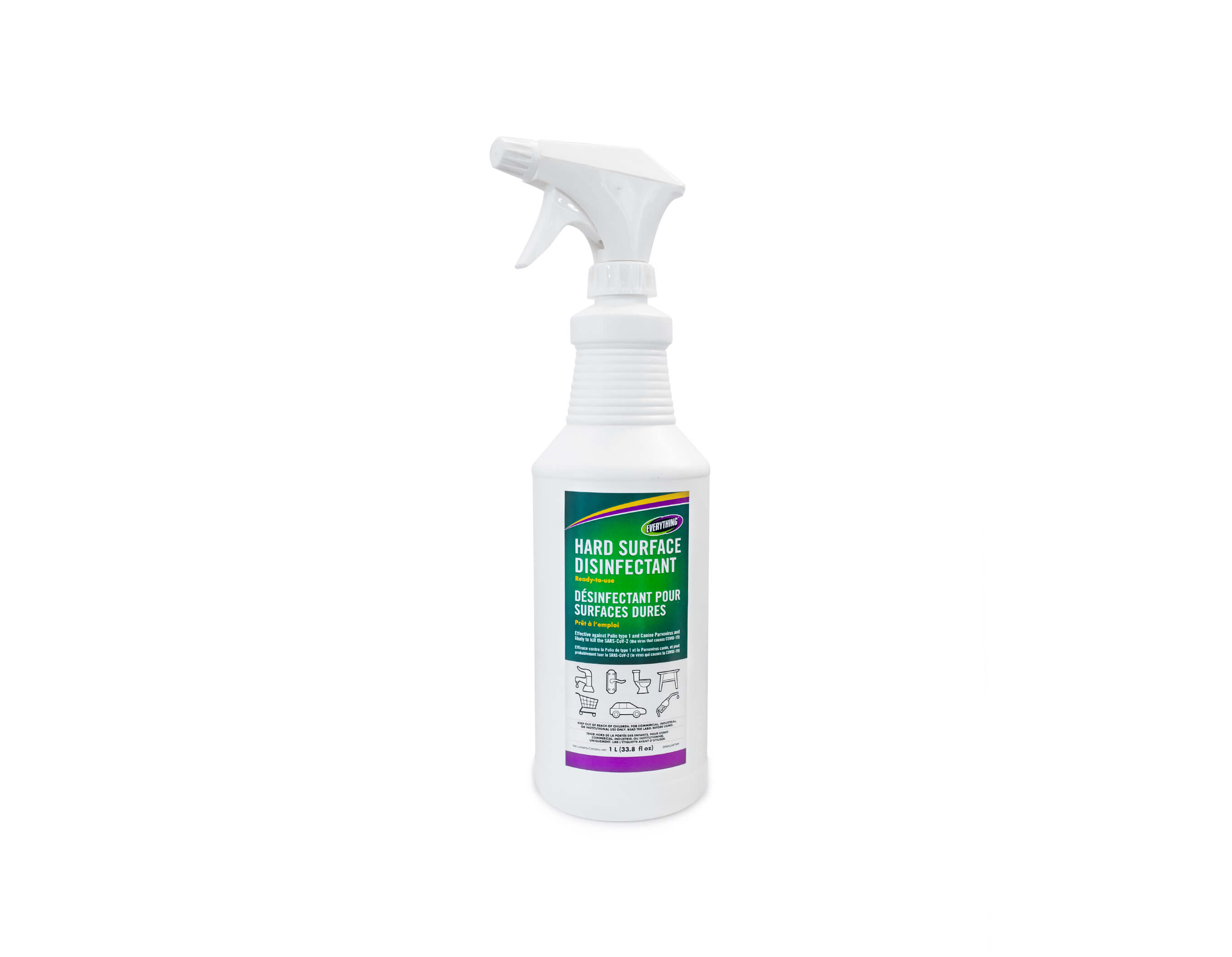 HARD SURFACE DISINFECTANT RTU 1L (use 893.139611)
A ready-to-use disinfectant cleaner that carries deodorizing properties. Easy to use and safe on hard, non-porous surfaces.
Technical Information
| | |
| --- | --- |
| Contents | 1 L |
| Dilution | Ready-to-use |
Features
Kills 99.9% of germs when used according to instructions
Sanitizes all inanimate surfaces
Won't streak or leave behind sticky residues
Applications
Generously spray the disinfectant on the surface and let stand for at least 5 minutes. Then wipe off with a dry paper towel or lint-free cloth
Product can be used to disinfect: - Health care facilities and dental offices - Industrial and residential buildings - Farms and animal housing facilities (poultry, swine, etc.) - Bathrooms and public restrooms - Institutions; schools, gyms, daycare centers, banquet halls - Food processing and storage plants (floors, walls, countertops, appliances, etc.)
Reusable non-porous personal protective safety equipment can be disinfected using this product (disinfect, rinse with warm water and air dry before reusing equipment)
Instructions
Ready to use bottle 1L (008.139001): Due to the world shortage, we will be shipping 1 trigger for every 2 bottles purchased.
Refill 4L (008.139040): Never decant disinfectants into an unlabeled container. All containers used to transport decanted disinfectants must be properly labeled.
Notices
Do not use on unpainted wood.
This product is not to be used as a terminal sterilant/high-level disinfectant on any surface or instrument that is introduced directly into the human body, either into or in contact with the bloodstream or normally sterile areas of the body, or contacts intact mucous membranes but which does not ordinarily penetrate the blood barrier or otherwise enter normally sterile areas of the body.
Review(s)
Product not yet rated.
---